Create a Designer Kitchen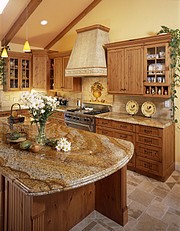 Thinking about a designer kitchen? Think you can't fit one in your budget? Think again. You can get well designed custom kitchen cabinets and fixtures that can fit your budget.
There is something to fit every budget out there.
Getting professional help with your kitchen can be a good idea to help you avoid the pitfalls.
There is no need to be over sold when searching out materials as designers can help you create that "special" look.
You should start with the selection of your kitchen cabinets. Not only is it usually the most significant purchase, the materials selected will more than likely determine your countertop, flooring and lighting selections.
---
Remodeling Your Kitchen? Click Here To Share Stories, Tips & Photos or Get Help With a Current Problem
---
Budgeting for your Designer Kitchen
Unless money is no object, a realistic
budget
must be considered
before
you start the remodeling process.
This should occur before you put pencil to paper.
Once your budget has been defined, you can shift priorities on what is important based upon your bottom line.
Creating budgets are not as difficult as staying on them.
Setting aside a contingency will also help in the event that you get a little scope creep.
Not so long ago, stainless steel appliances were only offered in the high end designer lines with a big price tag. Today most all manufacturers make appliances that give the designer look and fit every budget level.
---
Kitchen Design and Layout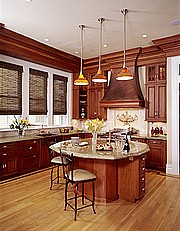 When contemplating a kitchen remodel, care and time must be given to the design process. Once a room of pure function and hidden from the rest of the home, kitchens have now become the hub of activity.
This new trend has created many more options to consider.
Make a list of all the functions that could possibly happen in your new kitchen. Invite all family members to contribute even the youngest of folks can have ideas to consider.
Also give thought to the things that you dislike with your current kitchen setup. This will help you address those needs. When that list is complete, separate it into two additional lists. One of must haves and one wish list.
This information will give you a good idea of what to include in your designer kitchen. It will also help tell you if you are within your defined budget. A good designer will be able to lead you and give you both the designer kitchen look while keep your finances in check.
Laying out the kitchen should be a product of how your family uses the space. The following things should be considered:
How often meals are cooked?
How many cooks work at one time?
Are the cooks left or right handed?
Is baking from scratch a frequent activity?
Is a universal design required?
---
Traffic Patterns
When planning your layout, creating a pattern of traffic control is important. If done properly, the work triangle can be kept free of interference.
Peninsulas and islands are great ways to divert traffic. The following are recommendations from the National Kitchen and Bath Association:
Doorways should be at least 32" wide and not more than 24" deep in direction of travel
Walkways should be at least 36" wide (42" if working towards universal design
Work aisles should be at least 42" wide for one cook and at least 48" wide for multi-cook kitchens
Each leg of the work triangle should be 4'to 9' in length with a total between 12' and 26'.
No major traffic patterns should cross through the work triangle
No entry, cabinet or appliance doors should interfere with one another
In seating areas, minimum 36" of clearance from counter/table edge to wall/obstruction if no traffic passes behind seated diners; 65" of clearance for walkway behind seated diners.
---
Aesthetically Speaking
Aesthetically speaking, a good designer can help you achieve any look that you find in a magazine.
This look however does not guarantee that you will be happy with your designer kitchen.
Aesthetics must be secondary to the actual function and layout that works for your family.
Once this has been achieved then you can concentrate on getting that "magazine" look.
Keep in mind the 3 Fs; Form Follows Function and you will be much happier over the long haul.
Start out by defining a focal point of the room. Creating emphasis on something will help define many elements of your design and color palette. It will also help decide the placement and location of other items. Focal points can be any significant piece of the design. It can be a featured appliance, fixture, contrasting countertop or cabinetry.
Your overall design should feel balanced. Even if your design is asymmetrical, you must take care to not make your space feel like it is lopsided. Asymmetrical designs are a little tougher to achieve however if the right focal point is chosen it can make it easier to work around.
There different ways to achieve balance. To read more on basic design principles, please visit decorating styles.
Whether laying out a U-shaped, L-shaped or galley style kitchen, one should consider the work triangle. As described by the NKBA (Nation Kitchen and Bath Association), the work triangle creates the most efficient work conditions for prep, cook and clean-up.
Although controversial, the triangle is a good place to start if you have no design in mind. The triangle is an invisible line drawn from the center-line of the sink, cooking center and refrigerator.
Return from Designer Kitchen to Home Page
---
How Did You Survive Your Kitchen Remodel? Got Tips?
The kitchen has become the heart of every home. Did you recently remodel yours? Or in the process of?




Tell us how you survived without a kitchen.

Share your funniest story while living without your kitchen?

Were there any major pitfalls you overcame? Please share!

Tell us your family's favorite activity (outside of eating of course)when gathered in your beautiful new kitchen.

Have questions about a particular phase of your current project? Just ask.

Share your story, photos and tips with Remodeling 101's design and remodeling community
It's Easy!
What Other Visitors Have Said About Their Kitchen Projects
Click below to see stories added to this page from other homeowners like yourself...