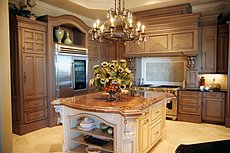 Kitchen cabinets are usually the most expensive purchase of your kitchen remodel.
Aside from the style and color, there are many other things to consider.
You should start a list of features and functions you think you may want to have in your kitchen cabinets.
Just like one of our previous exercises, think about what you don't like about your current kitchen set up and what you wish you had.
This will definitely get your list jump started in a big way.
---
Cabinet Selections
The following is a selection of kitchen cabinet types to ponder. All of which are generally budget driven. Within your budget, you may want to weigh the bells & whistles you can have in your cabinets with the type you purchase.
There may be a compromise that works for you. Whatever your choice, make sure that your kitchen can function in the way you would like it to.
Ready-to-assemble cabinets - Usually bring home same day, assemble and install yourself.
Stock cabinets - The least expensive of the already assembled cabinet lines.
Semi-custom cabinets - Stock cabinets with the ability to do some minimal customizing
Custom-made cabinets - The most expensive. Total designer look can pretty much make anything you want.
If you are not looking to do a complete remodel of your kitchen then maybe refinishing your old cabinets is a good alternative solution. It is certainly a cost saving method that can give your kitchen a fresh new look.
---
Entertain Unique Cabinets
When selecting kitchen cabinets, be sure to consider possible areas for display.
Pieces of sculpture created by little ones proudly displayed on a shelf or unique collectibles may find a home there.
Plate and wine rack displays are also great ways to create focal points.
If you've got the room, desk or mail centers are also a great addition to the kitchen. Most cabinet companies offer different types of setups to suit every taste. And if you are creating a totally custom kitchen then the sky is the limit.
---
Consider Quality First
When selecting your cabinets, be sure to look at the quality of each component.
It will serve no purpose to buy a beautiful cabinet that will fall apart on you in a few years.
Make sure that the cabinet assembly is sturdy. Look at the backs if you can.
If not, ask the sales person to explain the construction to you for each type you are interested.
For a quality cabinet, the backs should be a 1/2" think. They should be in a dado and not stapled. A dado is a groove that is vertical in the cabinet sides that the back sits in.
The face frames should be made of solid wood and not a veneer over particle board. This will allow the hinges to be screwed into something solid so they won't pull out over time.
Drawer boxes should be dove tailed or doweled for strength. Again stapled drawer boxes will fall apart over time. Make sure the drawer slides offered are heavy duty full extension.
---
Types of Cabinet Construction
Below is a list of different types of kitchen cabinet construction. There really isn't a quality difference with the different construction types as long as the meet the quality standards listed above.
Your decorating style will play a major role in the cabinet type selection you make. Additionally, the door style and material will also be influenced by the cabinet construction style you choose.
Flush Overlay - Used more in contemporary designs, flush overlay offers a clean sleek look. On a flush overlay cabinet, only the doors and drawers are visible. They overlay the cabinet sides, top and bottom completely. Although other types of hinges can be used, concealed hinges are the mose widely used with this type of construction.
Reveal Overlay - Also known as half overlay, reveal overlay can be used in a variety of decorating styles. In this type of construction, the doors and drawers only partially cover the cabinet components creating vertical and horizontal reveals. This type of construction also allows for the use of both concealed and conventional hinges.
Flush Inset - Door and drawer faces are totally inset into the cabinet body and are flush with the sides, tops and bottoms. With this style, the cabinet can be constructed with a face frame or not. The face frame is usually constructed of solid wood. Conventional and concealed hinges can both be used successfully with this style of cabinet with the exception of the butt hinge. Butt hinges should be avoided if they are to be screwed into edge grain. They will loosen over time and become a major frustration.
Your cabinet hardware will also be influenced by your decorating style and cabinet choice. Consider function as well as aesthetics when purchasing knobs and pulls.
---
Door and Drawer Styles
In addition to the cabinet construction type, you will also need to select the door and drawer style.
There are many variations to the available styles. Your choice has a direct correlation to your decorating style.
The following are the three most popular styles of door and drawer fronts.
Raised Panel
Flat or Recessed Panel
Flush or Slab
Again the selection of door and drawer styles of your kitchen cabinets will be directly related to your decorating style.
---
Adding Character and Individualism
When selecting you door styles and colors, make sure to think outside the box.
Varying the door styles can give definition to the kitchen.
Maybe you decide that you would like to have a raised panel door on the main run of kitchen cabinets and slab doors on the island.
Or maybe you keep the door styles the same but use walnut on the main layout and maple on the island.
As you can see there are no rules here. This is how to make your kitchen a one of a kind design.
---
Refreshing Cabinets on a Budget
If your budget does not allow for a total replacement of cabinets and counter tops, there are still ways to spruce up the look of your kitchen.
One such way is to strip them down and repaint or stain them to give them a new or refreshing look.
Another way is to replace the cabinet and drawer fronts with new ones. This is a great alternative to replacing the entire cabinet body.
There are companies such as Barker Door that specialize in cabinet door replacement and resurfacing.
This can be a great cost effective alternative.
---
Return from Kitchen Cabinets to Designer Kitchen