Interior Designing Basics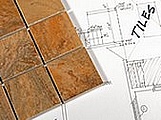 There is no right or wrong when it comes to design and color just guidelines and theories.
Allowing yourself to think outside the box will create uniqueness in your project.


---
It's Your Space
Designing is the best part of a renovation. It allows you the creative freedom to express yourself.
Your space should be a representation of you and your family's tastes and lifestyle; creating it should be fun and enjoyable.
Don't let anyone pressure you into decisions that you are not comfortable with and will regret later.
Sometimes architects, designers and even contractors for that matter loose sight of the fact that it is your home and their tastes don't have a place in it.
Certainly you can take their advice and run with it or adapt it to suit your needs but at the end of the day, you and your family must be the ones who love it.
---
Remember Our Scrapbook?
From the early stages of our project, we have been collecting things for our scrapbook. Now it's time to put it into high gear. Let's start thinking about layouts, special features and colors that will start to shape the final vision of each room.
Each room will be it's own little project. Try to imagine what the room will look like when it's finished. Jot down thoughts and ideas as they come to you create sketches if you can. Space planning can be achieved simply and easily with some in expensive tools and office supplies.
Make color a dramatic part of your design or just keep it as a subtle background. Learn more about color theory and usage by clicking here. As with color, lighting also plays both dramatic and background roles. When choosing your lighting, you should consider its use before deciding on the style.
---
Think Function First
Today's homes are used much differently than those of years ago. Kitchens have become the center of activity and baths a place to retreat and relax in a spa like atmosphere. The two have also become the biggest money getters.
Creating the biggest returns for your investment dollars.
Once we have determined the color schemes and layouts, thoughts must be given to finishes and also to furniture that will fill our newly renovated spaces. All of these will be determined by your preference of decorating styles.
Obviously these tasks can be made easier if working with an architect or interior designer, but it is certainly not necessary for this part of the process.
If you are confident in making decisions and know what you like, then go for it. Just keep in mind this helpful little tip from the design world Form follows Function and you will do fine and the satisfaction will be much greater in the end.

---
Favorite Designing Resources
Home Decorating Ideas - Help and advice with your Home Decorating and Home Furnishing. Learn basic ideas on color in your home, style, scale and balance,arranging furniture. Ideas illustrated by photos.
Living Room Design - Get FREE living room design and decorating advice to create a charming and inviting living room the easy way.
Comfortex Window Fashions - Your resource for custom window treatments. With designs that range from classic and elegant to contemporary and fashion forward, you'll find a window treatment to match your unique style. Comfortex offers a complete line of cellular, roller, Roman and pleated shades, wood alloy blinds, plantation shutters, sheer window shadings and vertical blinds.
Bedroom Interior Design - Interior Design Tips, Techniques and Help.
---
Return from Designing Basics to Home Page