The Perfect Designer Bath
Imagine for a moment you are walking into your newly remodeled bathroom. The perfect designer bath; a luxurious inviting haven to escape life's hectic style. What do you see? Feel? Warmth under foot, soft luxurious towels heating up to wrap and capture you after a soothing soaking or whirlpool bath.
Whether your style is contemporary, country or minimalist, there are vast selections of materials to fit every taste and budget. Limits of design are only a product of non-creativity.
Start the process by researching what is available. Online searches can give you a quick glance into what products are available. Maybe a quick Google image search gets you some photos or you pick up a magazine to get a sense of current trends. Bathrooms can be complex. Whatever avenue you pursue, educate yourself there is much to learn in creating the perfect bath.
And be sure to visit a nearby design or bath center to see the products in person. You will always get a better sense of scale when you do. Make a quick budget that includes a list of things you would like to have.
Choose a focal point. Maybe it is an old fashioned claw foot tub with legs painted to match accents or a glass vanity top that seems to float on air. Build your design around the one item you "have to have".
The overall feeling is a product of your design choices; while bold design, patterns and colors can liven up the room, calm and muted can lend itself to relaxation and tranquility.


---
Remodeling Your Bath? Click Here To Share Stories, Tips & Photos or Get Help With a Current Problem
---
Form Follows Function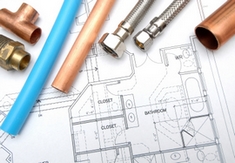 As with any other room, if it doesn't function the design is a failure.
So consider use, safety and maintenance in your design.
You can definitely have your perfect bath and function too.
Part of the function may or may not be storage space depending upon your homes layout.
If you are fortunate to have a linen closet off the bathroom in a hall per-se, consider yourself lucky. If you do not, you will want to work storage into your design.
A place for towels, toiletries and linens may be necessary. Some may be part of the vanity or some decorative baskets; be creative if space is limited.
If remodeling, consider locations of current water sources and drains. Working the design around the existing locations will save money and time.
---
Cabinetry & Woodwork
Use of cabinetry can add to the artistic vision of the design. Vanities can either be a focal point or just a functional piece in the background.
Antique furniture, typical vanity bases or open units with baskets can all function the same so choose the cabinetry that blends best with your style.
Woods add warmth to any space so consider the possibility of natural wood trim wainscot, base and crown moldings to compliment the cabinetry
---
Lighting
Bathroom Lighting should consist of a mix that compliments the ultimate design.
This mix should consist of general, decorative, accent and task lighting.
As important as in a kitchen design, task lighting in a bathroom is equally important. This is particularly important near mirrors.
The type, height, bulb and direction of light are all critical to proper illumination.
Typically, lights on the side of the mirror won't cast shadows and will surround the face with light which is really important for task lighting.
If possible, try to include as much natural light as possible. This is the truest form of light. Enlarging windows and adding skylights or transoms are good approaches. If privacy is of concern, consider glass block or frosting the glass.
Finishes can be the same as accessories or complimentary. Nickel seems to be the current trend although old rubbed and Venetian Bronze are making a surge.
To be successful, lighting should not be an afterthought but an integral part of the design from start to finish.
---
Color & Texture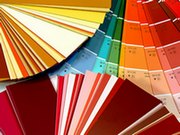 Used in the correct proportions, color, texture and light can actually make the room feel larger. Color adds depth to the design.
So if you have a small space to work with, think of how color can help.
Add color drama to one wall. The use of towels, bath rugs, draperies and shower curtains can all add texture.
Wicker pieces can also be used to add texture to the space. They can be both decorative and functional.
---
Flooring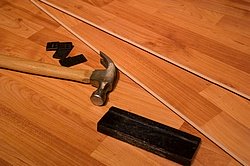 A resurgence of sorts has happened with bathroom floors.
Wood floors have made a strong comeback in designer baths over recent years although tile, stone and vinyl still rule the market.
Consider how the texture and color of the flooring will fit into the overall design plan. Safety should also be a concern when choosing flooring.
Tiles and stones with matte of flamed finishes and vinyl flooring offer the best in non-slip choices. The use of area rugs with non-skid backs can help with safety concerns.
Dark wood floors and tiles in a light bathroom can have a dramatic effect.
Keeping warm can be aided by radiant heated floors. Radiant heat adds a warmth you can't get from other forms of heating. There are different types of radiant floor heating from electric mats to hydronic systems.
Electric mats are the easiest to install but hydronic systems tied to the homes hvac system are the most energy efficient.
---
Finishing Touches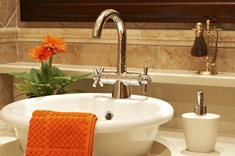 Accessorizing includes everything from towels, soaps and candles to baskets and plants. This is one area where one can really get a designer bath look without blowing your budget.
Color accents as discussed above can turn a simple looking bath into a stunning spa like atmosphere.
Other fixtures often referred to as toilet accessories or jewelry can also make a statement. In lieu of traditional towel bars, consider a decorative ring or a stand up toilet tissue holder giving an elegant look to what was once only a functional piece.
The finishes are only limited by your imagination. Although more costly, most can be dipped, oxidized or color coated for a custom look. Be sure to do research if you choose this path as the base metal of the fixture is important for re-finishing.
Towel warmers are a fairly inexpensive luxury that can await you after a hot bath or shower. Another consideration for a spa like atmosphere is music. If the room is completely being built or remodeled, then a permanent system could be installed.
It could be a satellite radio system or just one that connects to an IPod station but built in speakers are a much nicer add to the overall design vs. a standard radio or boom box.
As you can see, there are many things to consider in completing the perfect bath design. But even if it is only color and texture you can afford, drama can be created.
---
Return from Perfect Designer Bath to Home Page

---
Show Off Your New Perfect Bath Remodel
Got Tips? Got questions?

Bathrooms are changing from a purely functional room to an aesthetic part of the whole house design; a spa like oasis.




Share your funniest story while remodeling your bathroom?

Were there any major pitfalls you overcame? Please share!

Tell us what motivated you to remodel your bathroom.

What were your ultimate goals with your bathroom remodel?

Have questions about a particular phase of your current project? Just ask.

Share your story, photos and tips with Remodeling 101's design and remodeling community
It's Easy!
What Other Visitors Have Said
Click below to see contributions from other visitors to this page...

Built in Medicine Cabinets

Hi My husband and I am remodeling our bathroom ourselves and have a question. we would like to buid the medicine cabinet into the wall but there …
Radiant Heat

Hi We are renovating our whole house and are not sure what type of radiant heat to use. From what we have read here and been told, we should use tubing …