Diy Heating and Plumbing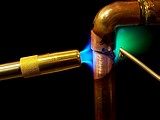 Unlike many other areas of a remodeling project, DIY heating and plumbing is not recommended. This part of the renovation should be left to experienced plumbing & heating contractors. It requires vast knowledge and skills to properly design, layout and install a quality heating and plumbing system.
Your homes overall heating and plumbing system is created by a group of smaller systems which combine to make the whole. The plumbing portion known as the Supply System not only supplies fresh water into the home but also includes the (DWV) Drain Waste Vent System.
The heating portion of the system may also include cooling. This type of combined heating and cooling system is called HVAC (Heating Ventilation and Air Conditioning). This type of system regardless of how it is powered is a very efficient way to save on energy keeping your home at a constant year round.
Click here to review alternative heating solutions.
---
Planning Your Layout
Planning the plumbing design layout early in the process is important to avoid costly changes later.
Determining what type of systems will be used as well as the type and quantity of fixtures is key to success.
In contrast with lighting, the more that is known about the fixture selections early on the easier and quicker the rough plumbing & heating can be installed.
For instance, if you are remodeling a bath, knowing whether the faucet is a wall mount or deck mount is vital to the location of the water line rough-ins. Shower and tub drain locations are also important.
Will there be a toilet and bidet or just a a toilet? Will it be a standard toilet or a wall hung? We will discuss the selection of fixtures a bit later on in this section.
Your contractor should be telling you via a written schedule when all information is required including the final selection of fixtures. This will keep everything on course. If you do not have a written schedule, you should request one. Click here to learn more about project schedules.
If your renovation project is small and not all encompassing, you may want to consider leaving existing pipes and duct work in place. Generally speaking it is not very cost effective to move a plumbing fixture unless you are taking down walls and removing flooring. It is better to design around the current locations to give it a fresh look.
If you do choose to move piping, consider using Pex tubing which will make the job easier with its flexibility. You will also find better pricing on Pex tubing which will stretch your budget without sacrificing quality.
---
Additional Things to Consider
Other things that warrant careful consideration is the selection of your hot water heater and whether or not to install a water filtration system.
There are many factors that should be considered when selecting them. Besides efficiency, they should function in a way that meets your families lifestyle. Click here to find out more on selecting the best hot water heater for your home.
Water filtration systems have come along way over the past several years. Many options exist from whole house systems that can filter all incoming water or just to isolated fixture and appliance areas. Click here for additional information on water filtration systems.
As you can see, there are many things to consider during a major renovation. DIY plumbing and heating is ok for some of the smaller stuff, but when a large project is looming, it is best to go with a professional.

---
Return from DIY Heating and Plumbing to Home