About Me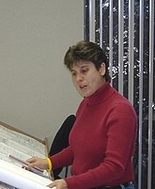 Hi my name is Tammy Borges and I have been married to my wonderful husband Greg (camera shy) for over twenty years.
Although I write all of the content, he offers me support, critiques, proof reads and even suggests topics when my creative thoughts stop flowing.
My formal education is in interior design and architectural drafting, but somehow I ended up a Senior Project Manager for a large high-end residential construction management firm.
I have been in the construction industry for the past 25 years. The last 15 as a project manager; the first 10 as a drafts person and interior/kitchen designer.
---
How I Got Here
How I got to my current position was a winding road of opportunities that presented themselves and I just hopped on for the ride. I won't bore you with all the details but it has been quite an educational journey.
Having the opportunity on a daily basis to work with some wonderful clients, architects and designers has been a blessing. I have also witnessed first hand the anxiety that goes along with the remodeling process.
Educating my clients about how things will happen and why is always tops on my list when starting a new project. My motivation for this is to some degree self-serving because the more my clients understand, the easier the entire process and my job becomes.
That said, I hope you find the information equally helpful to bring your remodeling project to a successful conclusion. If you do please drop us a line; we'd like to know how we helped.
Thanks for Visiting & Happy Remodeling!
Tammy Borges
---
PS. Perhaps you have a passion or hobby you'd like to write about. If so, cick here to discover how to turn it into a profitable web site like I and many others have done with Solo Build It.
---