Closet Storage Systems
As odd as it sounds, closet storage systems become more important with the less space you have.
In order to have functional storage, you must be able to find everything quickly and easily otherwise it is storage but not functional.
Finding adequate storage space for everything you own is a challenge for even the best organizers. Retailers like The Container Store offer help in sorting things out.
But there is really much more to the organization than just finding a closet storage system. Keys lie in answering the following questions. Truthfully!
Do I really need all this stuff?
Am I a hoarder? (In the kind sense of the word; do you feel emotionally attached to things that you can't let go of)
Do I really think I will fit in that size again?
Is there someone in the family that can make good use of this?
Can some organization put this to good use for someone less fortunate.
Organizing starts with de-cluttering. Before embarking on a crusade to re-organize closets, create new ones or by closet storage systems; start with downsizing.
You will be amazed at the stuff you can really live without if you are ok letting go.
There! Step one is complete. Now you can look at your available space in a whole new light.
---
Step 2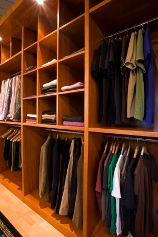 There is a whole movement revolving around simplifying life and de-cluttering but if you just need more space,consider the following question.
Can you use closet organizing systems to gain more flexibility and better utilization of the space you currently have?
Do you have the room to build a new closet, add a pantry or wardrobe unit?
Can bureau drawers be compartmentalized?
Is there sufficient attic space to make a large closet area to store seasonal goods and attire?
Is your basement dry enough to build a walk-in cedar closet?
Once you have determined a plan of action you can then decide what type of help will you need.
Do you need a contractor or do you have the diy skills required for this type of project?
Do you need a closet company?
Do you need interior design help or does your project require more substantial remodeling that would involve an architect?
What will be the extent of the reorganization?
As you can see, the answers to these questions will generally dictate the next move.
---
Kitchen Storage
Kitchens kind of stand alone in this organizing process.
There are many different things to consider in a kitchen than that of other rooms.
With so many small appliances and gadgets to make room for along with dishes, pots and pans, utensils, cleaning supplies and most importantly food; finding storage can become a major challenge.
As technology improves; so does the number of gadgets we possess.
Appliance garages or tall pantries make nice areas to hide the ones not used on a daily basis but what if you don't have one of these? Where do you put them so that they are accessible and convenient? No one wants to dig them out of the back of a cabinet somewhere.
Adding roll out shelves to large base cabinets is a great solution. These roll outs let you easily have things come to you even from the far reaches of the back of the cabinet. Most folks can tackle this diy project themselves with little trouble.
Along with shelf roll-outs, other organizers can help de-clutter the kitchen. Consider adding spice and cutlery inserts to drawers or additional roll-outs such as trash or recycle bin. A Baker's Rack can add storage room if you can fit it in the room.
Another space saver that often is forgotten are pot racks. Hanging from the ceiling these wonderful space savers can empty out cabinets creating storage space for other items.


---
Shop For Kitchen Islands, Pot Racks, Bakers Racks, Cabinets And Much More Today!
---
Return from Closet Storage to Home Page