Universal Design for Everyone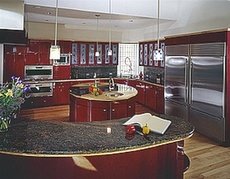 Once called barrier free or accessible living, universal design is becoming more popular than ever. The new standard is about a change in philosophy and not about specific objects or design changes.
The idea is to make the environment or product usable by all without making major alterations or special design considerations.
With people living longer and one fourth of the US population being over 50, considering universal design is not only practical but smart. Most baby boomers are preferring to stay in their own homes as opposed to moving in with their children or an assisted living facility as they age. Considering universal design will not only assist in ease of use, but make possible continued independence and safety for years to come.
If you are nearing mid-life and plan to stay in your home for a long time, then maybe you too should consider universal design elements or design in such a way that easy conversion is possible. Universal designs are not only more flexible to people of all ages and abilities they can also adapt to changing needs over time.
Sudden injury, back ailments, visual impairments are all things that can happen to us all at any time. Wouldn't it be helpful to have a kitchen that worked for you and your family no matter what the situation?
---
Layout & Design
Easy obvious things to achieve when laying out the design are wider halls and doorways.
Plan for a minimum of 30" to 48" in front of each work space and appliance. Aisles should be 42" to 48" wide and door openings at a minimum of 36" creating a clear door opening of 34".
Choosing specific storage accessories can make life easier. Such items include roll-out shelves, swing-out pantries and lowered sections of counter tops.
For those with visual impairments, consider a change in color or material to aid in depth perception and obstructions. Having a different edge material on the counter can aid in finding the edge easier.
For example adding a different color border to the flooring can alert someone that they are coming close to a countertop or appliance.
Additional items to consider in your design:
Cabinetry designed with the ability to create knee space below if required. Such as at a sink and or cooktop.
Lowering switches and controls for easier reach
Purchasing appliances with controls on the front
Microwave below counter level
Adding rollout out shelves to base cabinets
Use lever style faucets in lieu of turn type ease of operation
Be sure drawers have full extension drawer slides for easier access
Multi-level or adjustable height counter tops - 42" to 45" standing height, the standard 36" work surface height, and a 30" to 32" height for seated cooks and children.
Clipped or rounded corners on counter tops
There are a lot of common sense design principles incorporated in to universal design. Just think about your current kitchen now and what would make it better for you now and more importantly later in life.
---
Appliances for Universal Design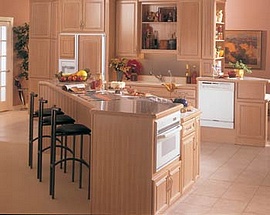 When shopping appliances for universal design keep in mind that most kitchens are designed for a standard person.
But what is a standard person?
People come in all shapes and sizes even those without physical limitations. Well that is changing in the design world.
Check out these recommendations by GE for the types to consider.
Refrigerators - A side-by-side configuration is helpful for those who are shorter, taller, or seated. It provides full-height access to both fresh food and freezer compartments, as well as narrower doors. Some top-mount refrigerators also have freezer storage within the recommended universal-reach range of 15" to 54". Look for features that make the refrigerator more convenient and easy-to-use, like spill-proof shelves, gallon container storage in the door, slide-out shelves, and see-through vegetable/fruit bins. A through-the-door ice and water dispenser is helpful, especially for children and shorter people, and cuts down on door openings.
Ranges - Look for controls located on the front of the range, so the cook doesn't have to reach across hot burners. A self-cleaning oven may be important for elderly or disabled family members, and is a time-saver for all. Creating a knee space adjacent to the range will increase accessibility to the oven.
Cooktops - Because cooktops can be individually installed at varying heights with knee space underneath, they're a good choice for people with mobility impairments. Consider smooth ceramic cooktops with burners as flush as possible or continuous grates on gas cooktops, for easy sliding of pots and pans.
Wall Ovens - Wall ovens are generally preferred because they can be installed with one rack at the level of an adjacent countertop, reducing the need to bend and improving accessibility. Look for a self-cleaning wall oven with easy-to-read graphics, an easy-grip handle, an oven lock-out switch, and generous interior lighting.
Microwave Ovens - A touch-control microwave oven placed at counter height provides easy cooking access for people of various ages and physical abilities. Other features to look for include electronic sensors that correctly cook specific foods automatically, audio and visual "cooking complete" signals, and digital help displays that explain how to operate the microwave.
Dishwashers - Look for dishwashers with automatic soil content, water temperature, and cycle-selection sensors, flexible loading features such as fold-down tines, a lock-out switch to prevent accidental operation, an easy-to-read display, and electronic problem indicators.
Washers and Dryers - Look for models that can be easily loaded and unloaded by people with mobility impairments. Front loaders are considered best. Controls should be within easy reach.
But along with the purchase of the right appliances; placement is just as important. Be sure to leave enough space for the operation of doors as well as avoid any conflicts with nearby cabinets and other appliances. Additionally raising dishwashers up off the floor or lowering the microwave can create ease of use for all.
---
Return on Investment
Completing a universal design kitchen entails much more work in the planning stages but if you plan to stay and grow old in your home it will surely be worth the time and effort.
By keeping universal design principles in mind, even if you decide to change your mind later on and move, you will definitely add a unique selling position to a whole new market of people.
The ROI (Return on Investment) will be great. There are many people unable to financially update their current homes to universal design but could sell theirs to buy yours.
As we grow older as a species with new medicines and technologies, this market will inherently grow larger each year.
---
Return From Universal Design to Designer Kitchens