French Country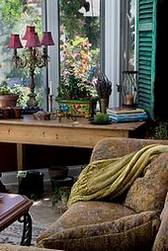 Bright colors such as yellows, blues and pinks are used extensively in the French Country look; breathing a bright cheery atmosphere. Even still most colors on the wheel will work if done in the right hue and values.
Lightly painted uneven plaster walls, beamed ceilings and deep cut window sills form a basis for this charming and down to earth style of decorating.
Although stone and brick floors can be found in the French Country decorating style, wide plank floors are also found. Wood colors range from light painted and whitewashed, to dark stained cherry.
Armoires are a staple in this unassuming decorating style. They can be used in any room and can be used to store everything from clothing, to linens to pots and pans. Tables are also used throughout to show decorative pieces.
Sunflowers, grapes and roosters and lots of fabrics are scattered throughout.
---
Return from French Country to Decorating Style