Find Your Perfect Bathroom Lighting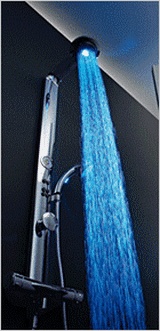 The design of bathroom lighting is dependent upon what you actually use the space for.
Guest powder rooms for example will generally only need aesthetic lighting as it is used just as a facility for guests coming to visit or for a holiday function.
Like the kitchen, the main family bathrooms will not only need pretty lighting but also functional task lighting for putting on make-up or shaving.
There are many different types of lighting so a combination will be best. Good overhead lighting will be a must if the wall sconces are purely aesthetics. A good lit make-up mirror may also be needed.
If the wall sconces are functional than the overhead lighting may just want to be a beautiful hanging fixture.
Dimmers also work great in bathrooms as a functional sconce can become a beautiful design feature when dimmed.
As you can see there are many directions to go and even the type of bulb will play a big role in your selections.
So much has changed in lighting over the last few years that going to a local lighting showroom can be a big assistance as you can see many examples all at the same time.
Think task first! Remember a generally rule of design that will help you is Form Follows Function. If you keep that in mind you will not only end up with a beautiful space but one that actually works for you and your family.
---
Return to Perfect Designer Bath