Americana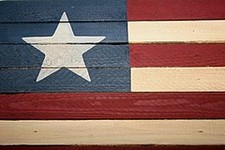 Once found as a part of American Country and Primitive, Americana is starting to emerge as it's own style.
One used to see a room or two in this style; now you can find entire houses done in this manner.
The color scheme is quite easy. Muted Reds, Whites and Blues are the foundation for this decorating style. Stars and stripes are dominant in quilts, wall hangings, wood signs and nesting boxes.
---
Americana Furniture
Distressed Early American furniture is influential in this style. Sometimes parts of the pieces are stained and the rest painted in red, whites and blues.
Like country and primitive, the style is simple. A sense of spirit and pride are felt when entering these comfortable spaces. The furniture and decor speak to it's simplicity.
---
Return from Americana to Decorating Style