The Evolution of Vinyl Flooring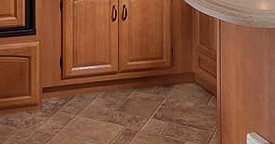 Also known as resilient flooring, vinyl flooring has come a long way since the days in Grandma's kitchen.
The material is fabricated better and the patterns are outstanding.
Selection abounds and is one of the most environmentally responsible choices. Vinyl is available in both sheet goods and tile.
Aside from the geometric styles, attractive patterns and solid colors, you can purchase vinyl that resembles both wood flooring and natural stone. It will amaze you at how real they look.
The simulated wood is actually a 3" or 4 1/2" x 36" plank and not a typical 12" x 12" square. When laid properly, they appear almost seamless. They are available in many different wood grain reproductions.
The stone look vinyl is also quite deceiving. Once put down, it can visually fool even the experts.
There are also specialty type vinyls such as marmoleum and anti-static dissipative vinyls. Specialty vinyls are not only used in floor applications but also as decorative wall features as well.
---
Advantages and Disadvantages of Vinyl
The biggest downside to vinyl is that it really does not add any value to your home.
And therefore you usually will not see a return on your investment.
Furthermore, it is prone to gouging and indentations.
Care should be taken when moving things across a vinyl floor.
In addition to the variety, there are several other advantages to vinyl.
It is very cost effective, water resistant and is a good candidate for diy installations.
---
Return From Vinyl Flooring to Choosing Flooring


---