Tile Selections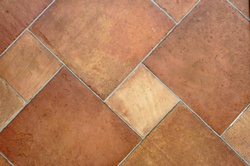 There's a variety of material choices when it comes to selecting tile.
It is available in ceramic, porcelain, quarry and natural stone.
Along with the different material selections, they come in an endless assortment of sizes, colors and finishes.
As with wood floors, you can create a pattern with an array of border and accents to match any decorating style.
In conjunction with your main field choice, add mosaics, liners or glass inserts to craft your own unique designs. For additional flair, turn some tiles on the diagonal or stagger the joints in a subway type pattern.
---
Durability & Maintenance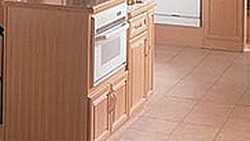 Although they can be damaged if something is dropped on them, overall they are one of the most durable long lasting flooring selections.
This one benefit has made them one of the most popular choices for kitchens and baths.
Other than resealing and cleaning the grout from time to time, they are really a low maintenance option that are very easy to clean.
---
Advantages and Disadvantages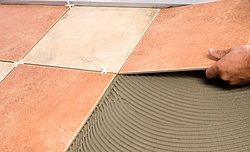 Their biggest shortcoming are that they are colder and harder surfaces.
Standing on them for long periods of time can create muscle fatigue and back pain.
But there are so many other advantages to this type of flooring.
Aside from the maintenance and durability, they can increase the value of your home.
Just as with wood flooring, they bring about the biggest ROI (return on investment).
It is also one of the easiest d.i.y floors to install. You can check with your local home center for classes on installing your own tile.
---
Return From Tile to Choosing Flooring