Is the thought of a home remodeling project keeping you up at night? Are you worried about the outcome and its effect on your finances?
You are not alone!
With so much at stake, there is reason to be concerned. As much as a remodeling project can be full of anticipation and aspirations it is also more often than not stressful, confusing and costly.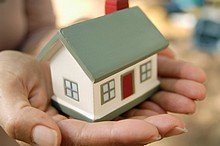 The great news is that you don't have to lose sleep over it anymore. You can be successful and save money too!
The biggest secret is to know how it all works. It's all about learning the process.
So put your remodeling project in good hands; yours.
10 Steps to Remodeling Success is a comprehensive behind the scenes guide that will arm you with all the right information needed to make yours a success. It will bring you to the other side of the tracks; the insider track.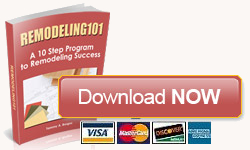 Get your copy now. You will be taken to a secure order form where you will complete the process and be taken to the download page to begin your successful journey. With a 100% money back guarantee you have nothing to lose.
What this guide is not is a how to DIY; but instead is a road map of how real project managers keep a project on schedule as well as budget. Learn the techniques they use to make their projects successful.
What critical decisions need to be made and when. These insider tips will show you everything you need to know.
The biggest money eaters are lack of experience and knowledge.
From hiring the right contractor to the proper close out documentation. Here is a highlight of what you will at your fingertips: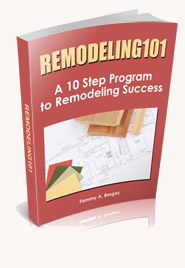 How to plan before you start
How to find financing for your project
How to qualify and hire the right contractor
How to review comparative bids
How to determine which professionals you need
How to create and keep your budget on track
How to minimize change orders
How to keep your project on schedule
How to take control of your project
How to make sure the project meets your expectations
How does it all come to a conclusion
How to survive a remodeling project and much more
There are literally hundreds of decisions needed to be made during the course of a remodel. Knowing which to do when is critical to staying on track.

This ebook offers concrete advice from a professional with over 25 years experience.
Not only do I recommend this book to my clients, but also I often refer to it myself to fully understand from a homeowner's point of view exactly what they can expect as they embark on the difficult task of renovating a home. Tammy Borges has "hit the nail on the head" with this great resource for homeowner's and design professionals alike! If you purchase one remodeling book this year; this should be it.
Adam J. Vanacore
President
Innovative Design Concepts,LLC
You will follow the same systematic approach and process that I have learned and employed for over the past 25 years. This e-book is chock full of tips, strategies and techniques that I have used to make all my projects consistently successful.
This compact easy read takes you right to the heart of each phase with straightforward information and answers.
Get my information-packed eBook now! Learn all you need to know about the remodeling process with this easy systematic program. Each chapter is packed with critical information required for success. Save money and avoid the common pitfalls that befall the uninformed.

Thank you for providing this informative guide. I have used it on my first remodel and was able to see situations developing before they became a problem. The book provided much more information than I thought I was getting. I will highly recommend it to friends and family.
Joe & Dove R.
Oxford, ME
If you are serious about understanding how the remodeling process works and how you can save money by not making the typical mistakes, then get this eBook now!


Hello Tammy,
I read your book at the weekend and thoroughly enjoyed reading it because several times when I came upon items of information I was reminded of situations that I have experienced in the past where I thought "If only my client had taken that precaution" or "now that would have prevented that problem on such and such a project". Your book brought a few memories back to me.

I found the book to be hugely informative, full of relevant information presented in a clear no nonsense fashion and easy to access. From advice on how to prepare your home for coping during the project, to the right questions to ask prospective contractors and interpreting their responses, even down to recognizing nuances in their body language, how and when to use professionals i.e. architects and interior designers etc, project management and budget control, it's all in this book. An absolute must for anyone planning a home remodel or even, I would suggest,a new home build.
Michael Eustace
Celtique Design
http://www.celtiquedesign.net


This e-book will be like having your own personal project manager.
In addition to that, you will also receive this invaluable free bonus to assist you in your endeavor.
BONUS – Free 20 day email access to ask any question about the ebook or your project

The 10 Step Program eBook is an easy download. Sellfy is used as a secure authorized billing agent for your safety. Upon successful payment, you will immediately receive your download of The 10 Step Program to Remodeling Success eBook.
The eBook is a PDF file, approx. 818 kb, and downloading time may vary depending upon your computer's internet connection.
Within a few seconds after payment, you can start reading and discovering the right steps required to make your remodeling project a success story while saving money.
100% Unconditional Money-Back Guarantee
I would like to share my hard-earned knowledge with you:
However, if, for any reason, you do not think that this eBook is helpful to you in any way, I offer an unconditional, no-questions-asked, 60-Day 100% refund: You have nothing to lose on this deal.
To get your own personal copy, click the button below. You will receive instant download instructions:

Order this must have guide today for only $17.00. It can save you thousands of dollars during the lifecycle of your project.
Have questions? Please contact our Sales Department.