Natural Hardwood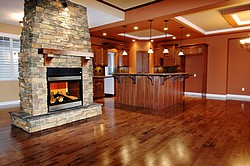 Truly one of the most desirable types of flooring, natural hardwood offers beauty along with value.
Natural hardwoods are cozy underfoot.
They also conduct heat more effectively and efficiently than padded carpets.
It adds a warmth to the home like very few products can and there is a selection to fit every budget.
For those who are ecologically minded, wood is renewable and also recyclable. Although is does take time to re-grow wood, it is renewable. There are also many sources available to use reclaimed boards. This allows the wood to have a second existence.
Wood floors are also very durable and easy to maintain. Over the long haul, they can be refinished to give your floor a brand new look for a minimal cost and inconvenience.
The inconvenience has definitely been put on the back burner as dustless floor sanding systems have become available. Now refinishing the floor can be a much cleaner process for a minimal up-charge.
---
Types and Finishes
Wood flooring is available in different species, grains and widths. There is something to fit any type of decorating style.
For a sample of what type of woods are available, check out National Wood Flooring Association website.
Wood floors can find a home in any room of the house. What was once only called for in living rooms, dining rooms and bedrooms today hardwoods can be found in any room.
As wood floors have become more prevalent in kitchens and baths, one must be careful as they can become especially slippery when wet. If you have little ones or older folks at home, maybe another choice for these rooms would be better.
---
Specialty Creations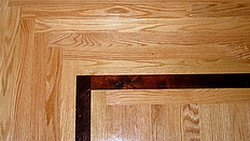 If you choose, you can get very creative with wood floors.
Inlay or woven borders and custom medallions are just a few of the options.
Mixing species or colors can create even more options.
Whether you prefer wide planks, strip flooring or parquet, the design and color possibilities are almost endless.
---
DIY Installing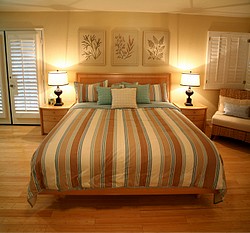 If you intend to install your own hardwoods, you may want to check out for the best pricing.
A word of caution for "diy-ers".
Once you have purchased your material, you should let the wood acclimate to your home's environment for a week to 10 days prior to installing.
This will minimize the movement in the wood once it is installed.
---
Return From Natural Hardwood to Flooring