Chromotherapy and its Healing Properties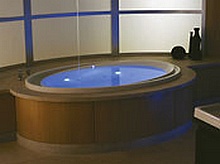 Chromotherapy also known as color therapy has been around since recorded time.
The Chinese, Ancient Egyptians and Greeks used color as a form of alternative medicine.
It's widely acknowledged by many different facets of the scientific community that there is a relationship between color and its affects on the human body.
There are many theories about the extent, but not much data to substantiate them.
---
LED Lighting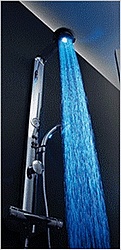 The creation of LED lighting has brought about and exciting time in the design and chromotherapy worlds. LED enabled fixtures is chromotherapy at its best.
Tubs, sinks, faucets and even shower heads can change the water's color as often as desired. Each fixture offers its own unique way of introducing color into the water as it flows.
Many companies like Kohler, BainUltra and Hansa have created a myriad of fixtures that bring out the ultimate in Chromotherapy.
So as you can see, there are so many unique was to bring color into your design.
---
Theraputic Benefit
From tranquility to stimulation the therapeutic benefit lies within the color. Here is a list of the common beliefs.
Red - Induces excitement & stimulation
Orange - Soothing & cheerful
Yellow - Stimulate and increases brain activity
Green - Considered the emotional stabilizer
Blue - Generates a state of peace for mind and body
Indigo - Produces a calming and sedative affect
Violet - Meditative & tranquilizing
Color is such a huge part of our daily lives and most of us go about our business without giving it a second thought. So as you start your remodeling process, you may want to look at color in a whole new light.

---
Return from Chromotherapy to Healthy Lifestyles